Hua Hin News
The news page is currently not being updated and only serves as a news archive. Sorry!
THE sand you walk on, the blue sea you swim in, the sunrise you wake up to and a "rock" you can rest on. This one is not at all craggy, but a bit more luxurious.
Hua Hin
is a most precious and charming town, facing the seaside of the gulf of Thailand
...
"HAVE you been to
Hua Hin
?" asked Nico of Agoda. I shook my head. "You should go visit, it's a beach resort town. It's like the Hamptons of Thailand." And so I did. On my most recent visit to Thailand, I took two days off from "work" and went south of
...
A tricycle driver waits for passengers in
Hua Hin
. The high-end destination draws about 2 million visitors a year, bringing benefits mostly to hotels and restaurants, while the locals remain on the sidelines.
HUA HIN
: —
Hua Hin
and adjacent areas will
...
Hua Hin
and adjacent areas will soon come under zoning and other regulations designed to control future development in the popular tourist destinations. Under a sustainable-tourism development plan pending the Cabinet's endorsement before September, ...
Chiang Mai-based Kan Air now operates direct flights from Pattaya (U Tapao Airport) to central and southern destinations in Thailand, including
Hua Hin
. Meanwhile an agreement has been signed over development of U-Tapao Airport as a 3rd airport serving ...
HUA HIN
:– Someone whose aim in life is to spread a religious message and convert others may be called a missionary. Emma Neve certainly has a 'mission'; however it's not about spreading religion; it's about addressing the basic needs of others in the ...
These are uncelebrated heroes in
Hua Hin
who call their happy group the Trash Hero and rightly so too! This small community of environmentally conscious people gather voluntarily every Thursday without fail at 3pm to clean up the Khao Takiab Beach.
HUA HIN
:— Hyatt Regency
Hua Hin
, Grand Hyatt Erawan Bangkok and Hyatt Regency Phuket Resort, in association with the Banyan Golf Club, invite amateur golf enthusiasts to join us at the sixth annual "Hyatt Open 2015" – a two-day tournament. 36 holes ...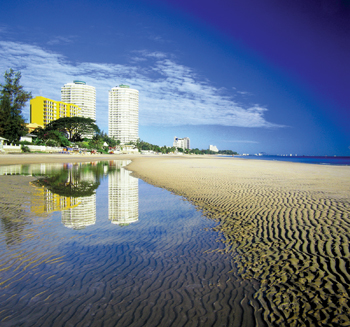 Palatial, pristine and oh so pretty,
Hua Hin
is the epitome of an emerging hot spot. Unlike other better-known beach destinations in Thailand, this up and coming coastal region is located along a scenic route just three hours outside of Bangkok by car.
Glen Roberts has been appointed as the new Culinary Director at the InterContinental Hua Hin Resort, Thailand. Beginning his culinary career back in Brisbane, Australia, in the mid-eighties, Glen Roberts, or "Chef Glen" by that time, now boasts a ...